RC 34 Brochure 2010-2014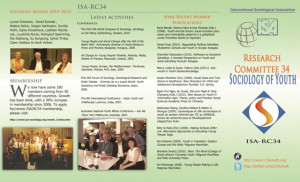 Click image to download.
Preview of what's inside
Some recent member publications:
René Bendit, Marina Hahn & Ana Miranda (Eds.) (2008). Youth and the future: social inclusion processes and vulnerability patterns in a globalized world, Prometeo Books (in Spanish)
Daniel Faas (2010). Negotiating Political Identities: Multiethnic Schools and Youth in Europe. Ashgate.
Charlotte Fabiansson (2010). Pathways to Excessive Gambling: A Societal Perspective on Youth and Adult Gambling Pursuits. Ashgate.
Nancy Lesko & Susan Talburt (Eds.)?(2011). Keywords in Youth Studies.?Routledge.
Jeylan Mortimer (Ed.) (2008). Social Class and Transitions to Adulthood. New Directions for Child and Adolescent Development. Number 119. Spring.
Ngan-Pun Ngai, An Guoqi, Sek-yum Ngai & Yang Changing (Eds.) (2010). New Issues on Youth in Information Age: Theory, policy and Practice. Social Sciences Academic Press (in Chinese).
Abdoulaye Niang, Seydina Ndiaye & Abdou K. Diongue (2009). Dynamiques et rôle économique et social du secteur informel des TIC au SENEGAL. Centre de recherche pour le Développement intégré/Yam Pukri.
Kitty te Riele (Ed.) (2009). Making Schools Different: Alternative Approaches to Educating Young People. Sage.
Ken Roberts (2009). Youth in Transition: Eastern Europe and the West. Palgrave Macmillan. Sharlene Swartz (2010). Ikasi: The Moral Ecology of South Africa's Township Youth. Palgrave MacMillan and Wits University Press.
Ani Wierenga (2008). Young People Making a Life. Palgrave Macmillan.
ISA-RC34 | IBYR
Share This Page