RC34 (Youth) Executive Boad Meeting
International Sociological Association Research Committee 34
Executive Board meeting
Yokohama, Japan
17th July, 2014
Minutes
In attendance: Ani Wierenga (President), James Côté (Past President), Clarence Batan (VP: Asia), Rosa Maria Camarena-Cordova (VP: Latin America), Maurice Devlin (VP: Europe), Jeylan Mortimer (VP: North America), Sharlene Swartz (VP: Africa and the Middle East), Natalia Wæchter (VP: Europe), Dan Woodman (VP: Oceania), Howard Williamson (Organisational Secretary and Treasurer)
Apologies: Vinod Chandra (VP: Asia), Maurizio Merico (IBYR editor)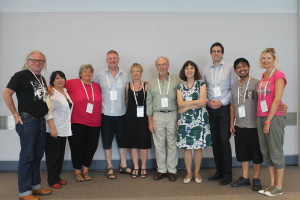 Agenda
1. Ideas
CB suggested exploring the possibility of continuing an event such as the Macao Symposium which had first made him aware of RC34. This was the Asian Youth Studies Symposium. It was noted that a similar event had been considered in China last year, but the necessary (institutional and financial) support had not be secured.
JM felt that, with the next World Congress taking place in Toronto, this should be a platform and opportunity for 'rallying' more youth researchers in the United States to engage with RC34, especially those in the children and youth section of the American Sociological Association.
SS noted that the next World Social Science Forum will be taking place in South Africa, which may provide some opportunity for RC34 engagement and branding. She also intended to check out the existence and strength of National Sociology Associations throughout Africa and the Middle East – the latter is virtually unknown to her and she would welcome contacts.
MD expressed his desire to build on renewed links with the European Sociological Association, especially through Carmen Leccardi (currently its President) and in relation to his proposed conference in Ireland next year, where European 'badging' will strengthen the profile of the event.
RMC confirmed that developing an RC34 profile in Latin America is likely to be difficult, significantly for language reasons. The Board recognised the need for a two-way process that, as a kind of 'return' for the inclusion of RC34 in any Latin American youth research events, will ensure some dedicated and distinctive commitment to Latin American concerns during more global RC34 events.
AW reminded VPs that she would be asking them to produce an aspirational 4-year plan and to ensure that these ideas are incorporated within them.
2. Events
Badging RC34 at other events (through some, sometimes modest, level of attachment) was considered to be a useful way of promoting and profiling RC34 in all regions. [It has subsequently been confirmed by the ISA Secretariat that no permission has to be sought from them; such collaboration is a matter for the RC34 Board's judgement alone. Accordingly our process will be thus: Email the President, cc the Organisational Secretary. We will probably ask a few questions (expectations, needs), and respond with the aim of approving and supporting where possible. If there are any areas of complexity / needing more consideration we will refer to the Exec Board. Regardless, will aim to keep you all in the loop].
It was noted that the Society for Longitudinal and Life Course Studies (former RC34 John Bynner, one of the founders) will be holding its annual conference in Dublin in 2015.
Such 'badging' should particularly be attempted in partnership with the ESA and with the JYS (Journal of Youth Studies) (which is holding a conference, with Danish partners in Copenhagen in March 2015, though that is probably too soon to establish the envisaged links).
 World Forum of Sociology, Vienna, July 2016. Andreas Karsten of youthpolicy.org had suggested that RC34 might wish to partner with his organisation (a private company) in order to promote a pre-conference event for young researchers. There was some discussion of Andreas' involvement in the pilot MA in European Youth Studies (EYS), of which MD and HW had been a part. His contribution had been invaluable. There was further discussion as to whether the prototype of the MA EYS might be considered for renewal as a learning programme for international youth studies. The Board felt that there was certainly value in having a conversation and 'critical discussion' with Andreas on these fronts.
World Congress of Sociology, Toronto, July 2018. A brief reflection on Yokohama suggested that the RC34 stream had gone very well on all fronts. Contributors to sessions had kept to time, attendance at sessions had stood up at usually some 40-50, and there had been very few 'no- shows'. This was attributed to the planning process that had had an open call for sessions but, within a framework of principled reactivity, had exercised a proactive approach in relation to the thematic content in full consultation with the Board. Though it had reserved some sessions for 'all-comers' and for the allocation of additional space for over-subscribed themes, the Programme Committee had then delegated significant responsibility to the Session Organisers, who subsequently took on the burden of responsibility for their sessions. This model appears to have paid off.
Vienna 2016. It was suggested that there might be a pre-congress session focusing on PhD students in discussion with established sociologists, providing integrative intellectual and social value to those participating. DW offered to lead on thinking this through and developing a proposal.
NW mentioned her plans for a Young Researchers event/summer school, focused primarily on postgraduate and post-doctoral students from Eastern Europe. There had been some funding difficulties that had obstructed the intention of holding such an event in the summer of 2015, but the idea has not been abandoned.
3. The Logo
HW applauded the initiative and creativity of CB and noted the general support for the prototype logo that he had presented to the Business Meeting. However, HW noted that there had been expressions of concern about both substantive and procedural issues. The Board acknowledged these concerns, with further concerns raised about message conveyed by logo, the need to consult and also technically, capacity to replicate the detail across formats. There was a reflection that logo design takes time and usually comparison of options. However members felt that CB had raised an important point and requested CB post a proposed new design on the IBYR website, canvassing the views of the membership through a simple question 'Is it time to change our logo?' and seeking a simple YES/NO response.
4. History of RC34
HW reported that he had already written to former VP Lyudmila Nurse, as well as a number of past Presidents and Secretaries, in order to re-start the gathering of material and ideas for a brief history of Research Committee 34. The Board was keen that this project should be brought to fruition but that it should not become an overwhelming task. HW asked for other members of the Board to indicate, soon, whether in principle they would be willing to assist with the project.
5. Advisory Board
The Advisory Board is intended to advise the President and is appointed by the President on recommendation of the Executive Board. Membership is not fixed and others can be asked to join. The Executive Board recommended that the following should be invited immediately to form the Advisory Board:
Ngan-Pun Ngai (Past President)
Helena Helve (Past President)
Lynne Chisholm (Past President)
Ola Stafseng (Past President)
Carmen Leccardi (Past VP and President of ESA)
Tomohiko Asano (Past VP)
Shen Jie (Past VP)
Carles Feixa (Past VP)
David Everatt (Past VP)
Tom Dwyer (Past VP)
Lyudmila Nurse (Past VP)
Siyka Kovacheva
 The Board is of importance for advisory, strategic and symbolic reasons.
6. Priorities
(a)  Dealing with knowledge across language barriers
As Tom Dwyer has been saying, the linguistic challenge for the ISA is not English but Translation! There are pros and cons with many different potential directions of travel. Should RC34 encourage sessions in other languages? How can RC34 facilitate attendance and contribution by those who may feel excluded because of language competence (in English)? Should there be formalised arrangements for providing translation, or instructions about how presentations might be done to provide visual and aural input (for example, slides in English, presentation in language of choice)? Or should the arrangements be more informal, but with the possibility of interpretation by compatriots who are more comfortable, confident and competent in moving between languages? How should RC34 deal with written papers in Spanish and French? Can Round Tables support greater inclusion of those not wishing to contribute in English?
The President said that everyone should do some work on this issue and feed thoughts and ideas to Sharlene. SS will take the lead in developing models that may be executed in Vienna (2016).
(b)  Establishing spaces for dialogue across youth research, policy and practice
There remain some undesirable fault lines, still at this World Congress, between those more committed to theory, those interested in policy and those involve in practice. More work needs to be done by RC34 about how to bridge this terrain in order to strengthen dialogue and communication in all directions.
(c)   Engaging with wider networks in the youth field: civil society and youth organisations
How should RC34 endeavour to get into broader networks in the youth field, in order to ensure useful social engagement, forge partnerships and provide intellectual involvement with the work of civil society and youth organisations?
7. Junior Scholar Award
The dilemma is whether or not to scrap this or to try to build on the experience of providing it. DW said he would give it some thought, especially around the idea of 'most promising colleague', in conjunction with leading on ways of strengthen RC34's support for 'young' (junior or early career) youth researchers.
8. Communication
Though impossible to have any blueprint for communication between the Executive Board, the least that should be expected is formal acknowledgement of emails, whether or not members have anything substantive to feed back.
HW& AW 20140717
ISA-RC34 | IBYR
Share This Page