Springer Series on Life Course, edited by LIVES Board of Directors, Publishes a First Book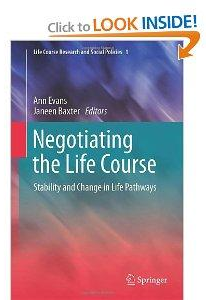 The first issue in the series "Life Course Research and Social Policies" is now available in print and electronically. A NCCR LIVES team will edit the next volume.
The book Negotiating the Life Course: Stability and Change in the Life Pathways, edited by Australian researchers Ann Evans and Janeen Baxter, is the first issue of a new series by Springer and focuses on questions related to family dynamics, generational and couple relationships, and their effects on labour. The series editors are Laura Bernardi, Michel Oris, and Dario Spini, leaders of the NCCR LIVES. They were involved in proofreading all chapters, to ensure the content fits the series aims.
The series Life Course Research and Social Policies invites academic scholars to present theoretical, methodological, and empirical advances in the field of life course studies, and to elaborate on possible implications for society and social policies.
A LIVES team will edit the second issue. Claudio Bolzman, Laura Bernardi, and Jean-Marie Le Goff are collecting papers on children of immigrants, with regards to the transition to adulthood including a longitudinal or transnational dimension. Researchers from Switzerland, Germany, France, Spain, Canada, Netherlands, and USA will contribute to this volume.
ISA-RC34 | IBYR
Share This Page